Nursing graduate on working during COVID-19
March 23, 2022
KIT School of Nursing and Health (SONH) has produced a lot of helpful health workers, some who are now working very hard to respond to the COVID-19 pandemic since it arrived in Kiribati.
Taorite Thomas is a KIT School of Nursing and Health alumni and valedictorian, now working for the local hospital. Since COVID-19 cases became active in Kiribati, Taorite explains some of the challenges and rewards of working in health at this time;
"Work during this pandemic is very challenging because the workload has doubled from the increasing number of cases each day, which results in an overflow of patients at the hospital. There is also extra work like changing PPE (Personal Protective Equipment) each time to ensure we are not contaminating patients as well as our family members once we return home, which has been difficult. Wearing full PPE for 8-16 hours can be uncomfortable but we have to endure it for the safety of our patients, families and ourselves."
Taorite promotes the importance of good health and hygiene management; "People must include hand hygiene, disinfecting your homes at all times and allow yourself to eat a balanced diet. Safety should be one of your top priorities in relation to this pandemic, maintain the use of a mask that has 3 layers, use 2 metres social distancing, avoid attending public gatherings and isolate yourself from your family if you feel sick."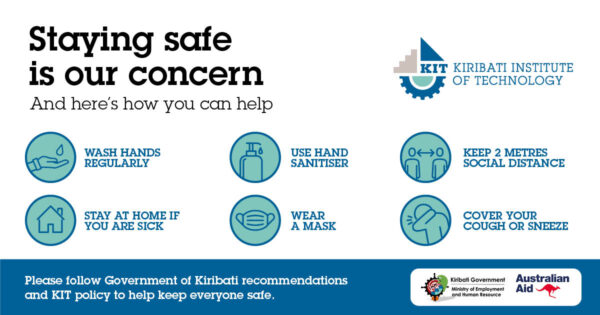 .
KIT eNews updates
Subscribe to receive news, stories and updates from KIT by email.