10 questions with Australian High Commissioner, David Yardley
August 10, 2021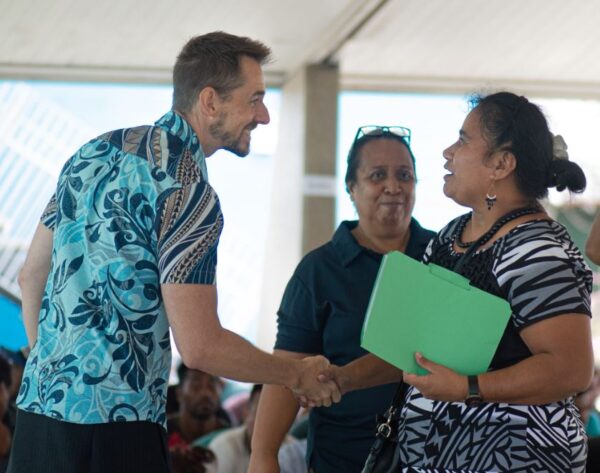 KIT have continued with this theme of '10 things' for Open Day 2021, leading on from 10 years of skills training partnership celebrated earlier this year, in an interview with the Australian High Commission to Kiribati about what education means to him and his role in Kiribati. Look out for the other Open Day campaign activities on social media and on the day!
1. You mentioned a personal connection to education and training when you were welcomed to KIT, can you please tell us more about how this connection came about and why this is important?
I come from a family of educators. My grandfather was a school principal in the United Kingdom, my mother was a university lecturer in Australia for her whole career. I also have an aunt who was a science teacher and I myself loved teaching mathematics to university and high school students long before I was a diplomat! So education and training is in my blood. My very first role working in the government was working in the Australian Department of Education, Science and Training (as it was then called).
All through my life I've grown up around the idea that education is fundamental, not only to individual opportunities but also to national development and sustainable outcomes. As you know, Australia continues to make a large contribution to education and training in partnership with Kiribati — everything from helping create high-quality, climate-resilient classrooms for primary schools to supporting TVET students to obtain Australian recognised qualifications, to Australia Awards scholarships and so much more. So it was a source of great happiness for me to know that I would be living and working in Kiribati, where Australian education and training investment and outcomes are so strong and so lasting. It was a particularly inspiring aspect of what I was looking forward to in taking on my role here in Kiribati.
2. If you had to choose one of the courses to study at KIT, what would it be and why?
If I was taking a course at KIT, I think I would take any of the courses on offer! KIT has a wonderful offering of great diversity and as someone who grew up around educators, I find all ideas and fields of study fascinating. I'm delighted that Australia's support for KIT has helped set the foundation for such a rich offering of useful and high-quality courses for I-Kiribati students to undertake.
But if I must choose just one course, maybe I could do with some of KIT's excellent Business study areas. That is something I didn't have a lot of opportunity in my own education to cover, and I realise it would be a valuable, flexible, and adaptable set of skills to take to many workplaces locally and internationally in our fast-changing world. And of course the English skills KIT offers are fundamental for working internationally as well, but hopefully I have enough of those already!
3. What are some of the challenges you overcame yourself while studying?
I think everyone encounters many different challenges while they are studying. In fact, one of the main things about studying is finding your way through the many diverse challenges that face students. I'd even go so far as to say that the learning gained from overcoming whatever challenges you are faced with matters more than what course you choose to study.
I think for me some of the challenges came from balancing some particularly difficult and challenging subject areas such as pure mathematics and legal studies (law) with everything else I wanted to do, like teaching, family commitments, church music and socialising. Finding that there were many, many, many late nights and many, many, many long weekends, I guess I learnt that sleep was a privilege!
Our Australian High Commission Facebook page has been telling the stories of several KIT students, Australia Awards scholars and others, and I'd really encourage everyone reading this to take a look. If you're finding studies challenging, it can be really inspiring to read from others what they faced, how they overcame it and how valuable their studies have proven to achieving their dreams.
4. What is your top tip for students studying at KIT who want to gain international experience?
To gain international experience, I would say do everything you can to understand what the pathway to that goal looks like and what areas of your own strength and skills you might need to work on in order to achieve it.
And my top tip — gather as much skill as you can in English language! It's a key foundation for engaging with the international workforce.
Australia has been so proud to make opportunities available for I-Kiribati in partnership with the Kiribati government around labour mobility opportunities for example — the chance to live and work in Australia. Those English language skills will play such an important role in obtaining an opportunity like that, and in getting the most out of life while in another country too.
5. Your last posting was in New York, can you tell us the most surprising thing you learnt about the cultures in New York and in Kiribati?
Moving from New York to Kiribati was of course a big change in many ways! I feel so blessed to have had the opportunity to experience these wonderful, different and rich cultures, which have opened my eyes in so many ways. For example, I felt like in New York I learned how I take the phrase 'be yourself' to a whole new level — embracing dreams and aspirations, and running with them to achieve what you could. And for example, even in my short time in Kiribati I've experienced hospitality, warmth and caring for each other taken to a whole new level. And to experience the incredibly rich culture around dancing and music. It's been a source of great joy to be welcomed here in Kiribati the way I have.
I think every culture has so much to offer and I'm delighted that so much of the work Australia does in partnership with Kiribati enables those "people-to-people links", and cultural exchange, to be deepened. Every scholar, every labour mobility worker, and everyone else we support in partnership with Kiribati is getting not just a work opportunity, but an opportunity to deepen the strong and lasting ties between our nations.
6. What would you like to learn more about while in Kiribati?
The answer is everything! I've loved everything I've seen so far and want to know so much more about every aspect. I've been sad not to have an opportunity to visit the outer islands at this time but hopefully in the coming months I will get the chance. Every day I'm learning more about the wonderful ways that Australia and Kiribati have been partners for so many decades and would love to learn more about the history of that engagement, and to reflect on its future — what part can we all play to strengthen even further these ties, understanding and cross-cultural communication between the people of Australia and the people of Kiribati.
7. In one sentence, what does it mean to you being an Australian in Kiribati?
It is the privilege of a lifetime to work on deepening the rich, diverse, and enduring partnership between Australia and Kiribati.
8. What is one 'funny' tip about living in Australia for I-Kiribati going to Australia as part of the Pacific Labour Scheme or Seasonal Worker Programme?
I think all the English language training in the world would not prepare you for Australian slang! Like the desire to abbreviate every word, and all the other uses of English that did not quite make it to the classroom…
For example, almost every long word can be abbreviated by taking the first syllable and then putting the letter 'o' after it, so "afternoon" becomes "arvo", "avocado" becomes "avo, "devastated" becomes "devo", and the list goes on…
When you first arrive in Australia be ready to hear English words that you never knew existed and that you can hardly find even if you look them up on the internet. So study all the English language you can, like I said above, and then be ready to adapt in real time once you're there! Oh – and take a coat! It'll be colder than Kiribati…
9. Working away from family is a big part of your job too. What message would you send to your family in Australia?
Of course that I love and miss them, and that I'm so proud to be working on something that is so important to both of our countries. And, if they want to see some of my daily experiences here, and all the amazing ways our two countries work together, they should follow the Australian High Commission Facebook page!
10. A one-word response to '10 years of skills training partnership between Australia and Kiribati'?
Inspiring!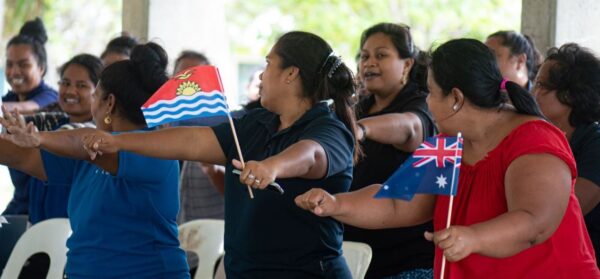 KIT eNews updates
Subscribe to receive news, stories and updates from KIT by email.